Sewer Drain Cleaning Kennesaw
Drain Cleaning Guaranty!
it's unclogged for Good!
We offer a full one year pipe clog gaurantee on sewer and drain cleaning or root cutting in Kennesaw Ga! If the sewer or drain clogs up again after our sewer root cleaning service has been performed, we will return once again within a single year and clean the sewer root stoppage for free!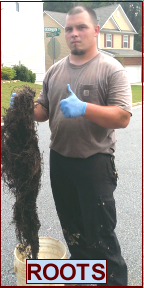 We'll unglog your Sewer or Drain for Good!
Includes Up to 130 feet of sewer rooter cable (Outside Sewer Main).