Schedule Online and Save 12%!*
SCHEDULE NOW?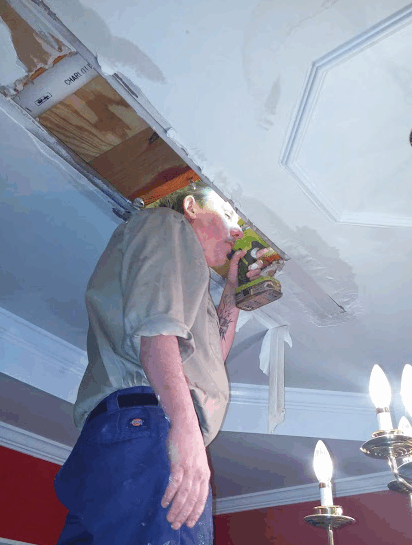 Emeadiate Water Leak Repair in Woodstock Ga
Free Water Leak Inspection Now!
Valu-Rite Plumbing performs free diagnostic trouble-shooting on water leaks in your ceiling, basement, foundation, yard or water leaks in your crawlspace caused by old piping, stressed piping, frozen water pipes or simple toilet or fixture water leaks in Woodstock and nearby areas.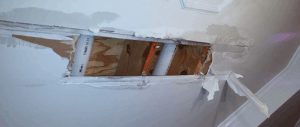 Water Leak Emergency, Woodstock Ga
Water Leak Emergencies in Woodstock can be caused by many different things. The most common water leak emergency is usually a broken, burst or frozen water pipe located within a wall, ceiling or crawlspace. Frozen water pipes can literally destroy your home. Other water leaks can be caused by broken water pipes leading to a fixture or even a drain backup. It's important to act fast when a water leak emergency occures; to make the repair and get the water cleaned up before any mold or mildew gets a chance to set in.
Water Leak Ceiling, Woodstock Ga
Water Leaks coming through your ceiling or causing a stain in your ceiling can be more than just a nusance, it can literally flood your house and ruin your floors and can cause hundreds of thousands in damage. Water leaks of this nature must be repaired very quickly and should be completed by only a professional plumber so the problem is solved for good. You can trust Valu-Rite Plumbing to make these type repairs quickly and protect you from further water leaks of this nature. With more than 30 years of making water leak repairs on all types materials, you can rest assured you called the right plumber for the job.
Frozen Water Pipes, Woodstock Ga
Water Leaks caused by a frozen water pipe can cause some of the most devistating floods within your home. It's not enough to just make a repair to a water leak caused by freeze. The water pipes that froze should also be properly insulated so they wont freeze again in the same place. With Valu-Rite Plumbing, once the frozen pipe water leak has been repaired, it will also be insulation so you wont have to see us again for the same water leak in the future!
High Water Bill, Woodstock Ga
Water Leaks can sometimes be hidden from sight. If you receive a high water bill and suspect or have been told that you have a water leak, Valu-Rite Plumbing can perform a free diognostic to determine where the water leak may be coming from. Even if you can't hear or see water leaking anywhere inside or outside your home, a professional from Valu-Rite Plumbing can often track down and locate the water leak free of charge. Most of the time, hidden water leaks turn out to be something small with low cost of repair. You can't go wrong with a free water leak inspection by Valu-Rite Plumbing.
Leak Detection Service, Woodstock Ga
In the event that your water leak can not be found with our free water leak inspection service, Water leak detection can be scheduled to find your water leak using saphisticated water leak detection equipment. By pressurizing your water system and introducing air or sometimes gas into the water system, even the smallest water leaks can be detected and repaired at a minimal cost.
Water Leak Basement, Woodstock Ga
Many basement water leak, crawlspace water leak, water cleanup and water damage restoration may be completed very quickly after being examined by a professional from Valu-Rite Plumbing. If you have water leaking through your foundation or basement wall or crawlspace in Woodstock or nearby areas, you can't go wrong by letting a pro from Valu-Rite Plumbing examine the basement water leak for free.
Several techniques can be utilized to pin-point the source of the leak. Basement or Crawlspace Water leaks can be caused by a simple loose connection in an hard to reach location, or it could also be a situation as shown below
where a form of electrolosis has eat the pipe away causing pit holes to form through-out your water system and sometimes under the foundation, crawlspace or basement of your home. This is very common in Woodstock and nearby areas. If a basement leak, foundation leak, or other crawlspace leak issue has caused water damage to your home, Valu-Rite Plumbing will work with your insurance company to get the water leak cleanup and restoration of your home resolved quickly with little or no cost to you.

Water leaks from your water main can show up inside your basement or crawlspace, or at your foundation wall. Water could enter your home from any location or may not show up at all.
Our goal is to make you very glad you chose Valu-Rite Plumbing to diagnose your water leak. When you request a free water leak diagnostic be performed at your home or office in Woodstock or nearby areas, we go over-and-above what you've called us to perform by...
Inspecting your outside hose faucets for free repair possibilities.
Making adjustments and often repairs to small issues found within your crawlspace for free.
Testing and Adjusting your water pressure regulator to protect your fixtures and piping.
Inspecting hard to get to areas of your plumbing System within your basement or crawlspace.
Inspecting your water heater and thermal expansion protection systems for unseen water leaks.
Valu-Rite Exclusive Warranty:
LIFE!
See Warranty information below.
REQUEST THIS SERVICE NOW?


Valu-Rite Guaranteed Price before we Start
!
A courteous, clean technician will visit your property in Woodstock or nearby areas, and give you a FREE, GUARANTEED price quote before any work is started. If you don't like the price, you pay nothing for the visit!
Valu-Rite Guaranteed Warranty
!
All Valu-Rite Plumbing Labor is under warranty against defects found in workmanship to plumbing piping or connections to valves or installations to appliances for the amount of time listed above. Appliances or valves, fixtures carry a manufacturer's warranty as well.
---
All Valu-Rite Plumbing Service Locations
Valu-Rite Plumbing services the following Locations.